Tyre pyrolysis oil extraction machine product introduction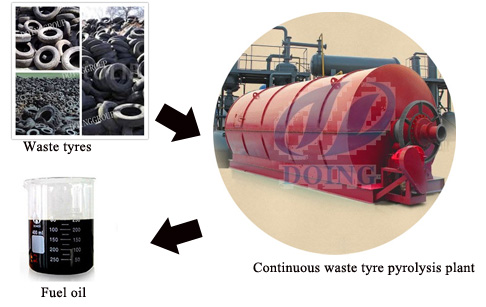 Tyre pyrolysis oil extraction machine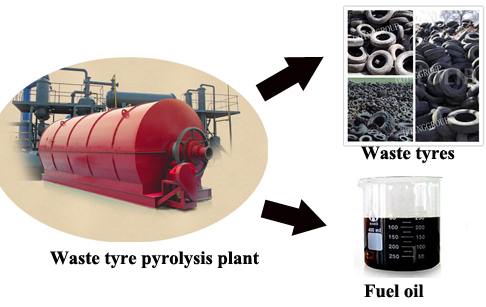 Tyre pyrolysis oil extraction machine
Tyre pyrolysis oil extraction machine is converting waste rubber ,waste tyre,waste plastic and oil sludge into useful resources ,such as fuel oil ,carbon black


Tyre pyrolysis oil extraction machine main feature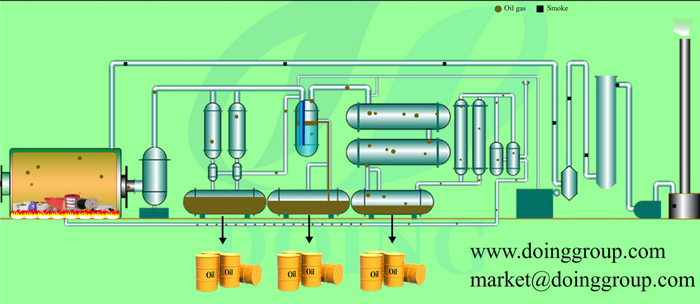 Tyre pyrolysis oil extraction machine is processing waste tyres

Pyrolysis is a special case of thermolysis, and is most commonly used for organic materials, being, therefore, one of the processes involved in charring. In general, pyrolysis of organic substances produces gas and liquid products and leaves a solid residue richer in carbon content. Extreme pyrolysis, which leaves mostly carbon as the residue, is called carbonization. The process is used heavily in the chemical industry, for example, to produce charcoal, activated carbon, methanol, and other chemicals from wood, to convert ethylene dichloride into vinyl chloride to make PVC, to produce coke from coal, to convert biomass into syngas, to turn waste into safely disposable substances, and for transforming medium-weight hydrocarbons from oil into lighter ones like gasoline. These specialized uses of pyrolysis may be called various names, such as dry distillation, destructive distillation, or cracking.
Tyre pyrolysis oil extraction machine final product and application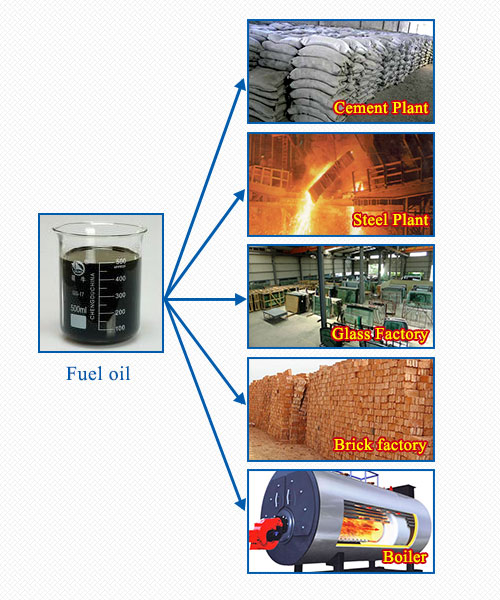 Fuel Oil (40% to 45%)
The main application of oil products produced by our waste tyre oil extraction machine is the fuel oil that is wide used for industrial and commercial purposes. Such as power plant factory,glass factory,cement factory,ceramic fatory.

Exhaust gas (About 10%)
We get about 10% pyrolytic gases during pyrolysis process. The main component of this gases are methane (CH4), so we can not condense and store this gases. We use this gases to heat the reactor and we can use exceed gases for other heating application.

Steel Wire (10% to 15%)
The third product of waste tyre oil extraction machine is steel wire, the quantity of steel wire is about 10% to 15% according to tyre quality. It is very easy to sell steel wire scrape in local market.

Carbon Black Powder (30% to 35%)
The second product ofwaste tyre oil extraction machine is carbon black. The quantity of carbon black is about 30% to 35% according to tyre quality. Carbon black can application to electric cable jacketing,black nylon bag,rubber additive.



Technical parameter of tyre pyrolysis oil extraction machine
 
Items
Contents
1
Equipment type
DY-1-6
DY-1-8
DY-1-10
2
Raw material
waste tyre, waste plastic, waste rubber,
3
Structural form
Horizontal rotation
Horizontal rotation
Horizontal rotation
4
24-hour Capacity
6 ton
8 ton
10 ton
5
Oil yield
2.7-3.3ton
3.6 -4.4ton
4.5 -5.5ton
6
Operating pressure
Normal
Normal
Normal
7
Material of pyrolysis Reactor
Q245R
Q245R
Q245R
8
Thickness of pyrolysis Reactor
16mm
16mm
16mm
9
Rotate speed of pyrolysis Reactor
0.4turn/minute
0.4turn/minute
0.4turn/minute
10
Total power
19KW
19KW
19KW
11
Mode of cooling
Water cooling
Water cooling
Water cooling
12
Cooling area of condenser
100sqm
100sqm
100sqm
13
Kind of transmission
Internal gear drive
Internal gear drive
Internal gear drive
14
Noise dB(A)
≤85
≤85
≤85
15
Size of Reactor(D×L)
2200×6000
2200×6600
2600×6600
16
Working form
Intermittent operation
Intermittent operation
Intermittent operation
17
Delivery time
20days
20days
20days
18
Weight
27T
30T
35T