Used tyre pyrolysis machine product introduction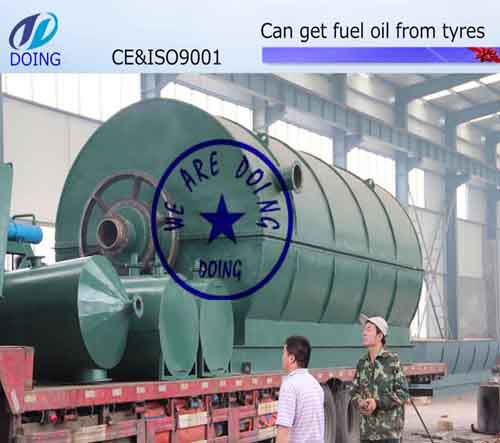 The used tyre pyrolysis machine is a machine converts the used tyre to oil; it belongs to the pyrolysis technology, when the used tyre heated in an atmosphere in the absence of oxygen the used tyre will begin crack, there is a best temperature for the pyrolysis, In the same temperature, the same pressure, there is a temperature that the pyrolysis will be finished. If the temperature is higher the temperature will not produce more oil gas. The used tyre pyrolysis machine is a machine which adopted the principle. The used tyres are heated to a high temperature, and then the used tyre will crack. The large chain molecule will break into small chain molecule, the small molecule will recompose into element which can form the fuel element.

We have specialized research and development of the tyre pyrolysis machine for many years, we have the mature technology to manufacture high quality tyre pyrolysis machine, and we can improve the oil yield rate. Our pyrolysis technology is fast developing with the society. We have strong ability to innovate and design high quality tyre pyrolysis machine; the advantages of the pyrolysis machine are as following:

1. Environmental friendly. There will be no exhaust gas discharging into the air.

2. It is a renewable industry the governments are promoting the sustainable development and green technology all over the world, so the machine will get the government support easily.

3. It is a new method to solve the pollution especially for the used tyre. For used tyre we usually little it thus leading to pollute the ground. If we burn the used tyre we will generate the toxic gas which is harmful to our health and the environment. So the used tyre pyrolysis machine solves the pollution of the used tyre perfectly.

4. The used tyre pyrolysis machine will relieve the pollution about the environment,we usually burn the coal to generate electricity Thus will generate a large number of pollution to the environment and the coal is a limited energy. The end product of the used tyre pyrolysis machine can be used for generating electricity. Also the fuel oil can be used in cement factory, glass factory and so on.

5. It is a machine converts waste to energy.

6.The pyrolysis plant will create jobs by offering green technology.


Technical parameter of used tyre pyrolysis machine
 
Items
Contents
1
Equipment type
DY-1-6
DY-1-8
DY-1-10
2
Raw material
used tyre, waste plastic, waste rubber,
3
Structural form
Horizontal rotation
Horizontal rotation
Horizontal rotation
4
24-hour Capacity
6 ton
8 ton
10 ton
5
Oil yield
2.7-3.3ton
3.6 -4.4ton
4.5 -5.5ton
6
Operating pressure
Normal
Normal
Normal
7
Material of pyrolysis Reactor
Q245R
Q245R
Q245R
8
Thickness of pyrolysis Reactor
16mm
16mm
16mm
9
Rotate speed of pyrolysis Reactor
0.4turn/minute
0.4turn/minute
0.4turn/minute
10
Total power
19KW
19KW
19KW
11
Mode of cooling
Water cooling
Water cooling
Water cooling
12
Cooling area of condenser
100sqm
100sqm
100sqm
13
Kind of transmission
Internal gear drive
Internal gear drive
Internal gear drive
14
Noise dB(A)
≤85
≤85
≤85
15
Size of Reactor(D×L)
2200×6000
2200×6600
2600×6600
16
Working form
Intermittent operation
Intermittent operation
Intermittent operation
17
Delivery time
20days
20days
20days
18
Weight
27T
30T
35T