Punjab okays setting up of new pyrolysis plants in notified areas
Providing a relief to pyrolytic industry, the Punjab government - on the directions of Deputy Chief Minister Sukhbir Singh Badal - has allowed setting up of pyrolysis plant in the notified focal points, industrial areas and designated industrial land use areas in the state.

Disclosing this here on Monday, a spokesman said deputy chief minister had intervened in the matter to save the existing 50 pyrolytic industrial units, besides framing a new policy for setting up of new units.

After considering various environmental and legal issues and suggestions received from the public, its final policy got the approval from the Punjab Pollution Control Board (PPCB).

Accordingly, the state government has issued fresh guidelines for setting up of waste tyre-based pyrolysis plants which extract fuel oil to adopt pollution prevention measures.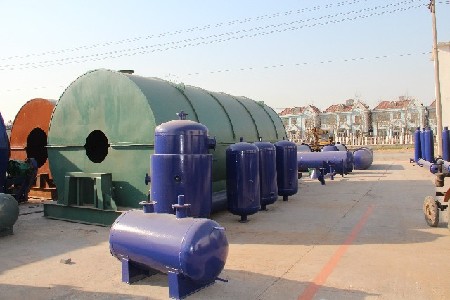 Pyrolysis plant

Sorting out its long-pending issues, the Science, Technology and Environment Department in its new guidelines has allowed setting up of pyrolytic units in notified or approved focal points, industrial areas and designated industrial land use areas besides approving the clearance to existing units which have applied before March 31, 2013 and are fulfilling new guidelines.

To tackle environmental and safety issues, clear instructions regarding code of practice and pollution abatement measures have been issued for all pyrolytic units.

Besides, the state government imposed a complete ban on procurement or import of raw material from foreign off-shores or even from other states within the country. All units including existing ones would be allowed to process the waste tyres or waste rubber products generated from within Punjab only.

The pyrolytic industry would not be allowed to discharge waste water generated from oil-water separators anywhere.

The new units would have to develop a green belt of minimum of four metres width along the boundary of pyrolysis plant.

Recently, a number of units which used pyrolysis process for extraction of fuel oil from the waste rubber tyres were being set up in the state.

Deputy Chief Minister has received complaints from public regarding pollution caused by pyrolytic units and a few accidents have also occurred in such plants due to unsafe and inappropriate operations of pyrolysis reactors.

Thus, Badal headed a number of meetings to get the logical solution to this problem so that neither pyrolytic industry nor the public should pay for it.
Inquiry more punjab okays setting up of new pyrolysis plants in notified areas information
Leave a message in the below form to get more information about pyrolysis plant project, our engineer will contact you ASAP to analysis pyrolysis plant project cost for you.