Continuous waste plastic pyrolysis plant product introduction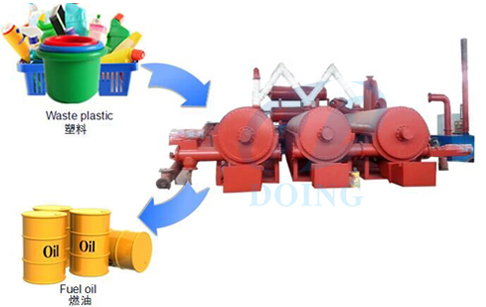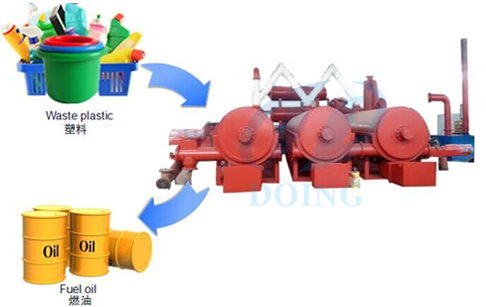 Continuous waste plastic pyrolysis plant

As the application of the plastic products becomes wider and wider, the pollution caused by plastic waste is also a huge problem. Some of the developed countries have put many emphasis on developing the plastic waste recycling technology.

The pyrolysis technology is a new invention, and the Continuous waste plastic pyrolysis plant can turn the plastic waste into fuel oil, carbon black and combustible gas. The plastic pyrolysis process is harmless to the environment and operator, in addition, when you first use the continuous waste plastic pyrolysis plant, we will assign you the professional technician, who can help you in installing and running the plant. So you can operate the plant easily.

Continuous waste plastic pyrolysis plant advantage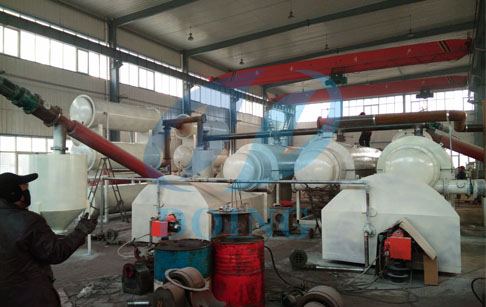 Continuous waste plastic pyrolysis plant

1: Fully automatic with low labour cost
Our fully conitnuous waste plastics pyrolysis plant is controlled by PLC system with automatic feeding and discharge system, which only need 1-2 worker for operating the PLC or computer is ok.
2:Fully pyrolysis for high oil output
Our fully continuous waste plastics pyrolysis plant adapts to multiple reactor design which can make fully pyrolysis of waste plastics, thus to get high oil output.
3:Big capacity
Also due to continuous feeding and discharge system, and unique multiple reactor design, our fully automatic continuous waste plastics pyrolysis plant can process at least 10 tons waste plastics per day, up to 100T/D.
4: Internal rotating for continuous operation
For external rotating system, you have to change the sealing material every three days, thus cannot achieve he real sense of continuous process. But our continuous waste plastics pyrolysis reactor adapts internal rotating method, which no need to worry about the sealing of the external rotating system.Continuous working save time and energy
5:Long working life
During the continuous pyrolysis process, reactor is heated by indirect hot air heating, which will not damage reactor so much, thus to keep long usage life of the reactors.

Fully continuous waste plastic pyrolysis plant is a very good investment, not only can efficiently deal with a large number of abandoned plastic, turn waste into treasure, but also can avoid environmental pollution caused by landfill or burning these waste.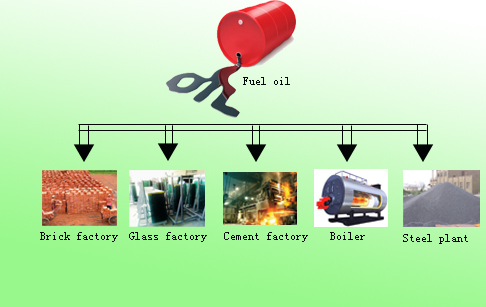 Fuel oil application

Fuel oil from waste tyre are used in below industries

A.power plant factory
B.glass factory
C.cement factory
D.ceramic fatory
E.aluminum factory
F.boiler factory
G.central heating factory
H.painting factory
Carbon black application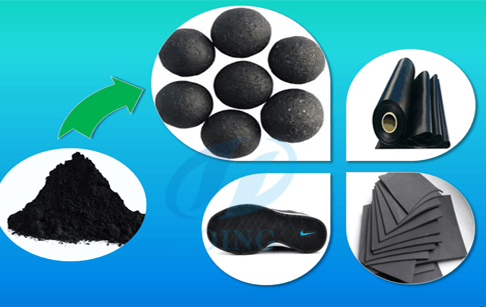 Carbon black application

Carbon Black is the main product recycled by Pyrolysis technology. The amount of recycled carbon black is 30% to 35% (depending on the type of tyres) of the total amount of scrap tyres recycled in the system. Carbon black is used as raw material or main ingredient in many industries and the chemical structure of carbon black strengthens, lengthens the endurance, and improves the coloring features of the materials.

Carbon black produced by Pyrolysis process (CBp) is more economical compared to carbon black produced primarily from petroleum and is more price-efficient to be used as an ingredient in the industries listed;

* Electric cable jacketing
* Conveyor band
* Carrier Bands
* Hose and doormat
* Black nylon bag
* Rubber additive
* Automotive spare parts
* Heat isolation
* Black colorant in rubber materials
* Plastic pipes
* Industrial rubber products
* Fire fighting