Pyrolysis plastic to fuel oil recycling plant product introduction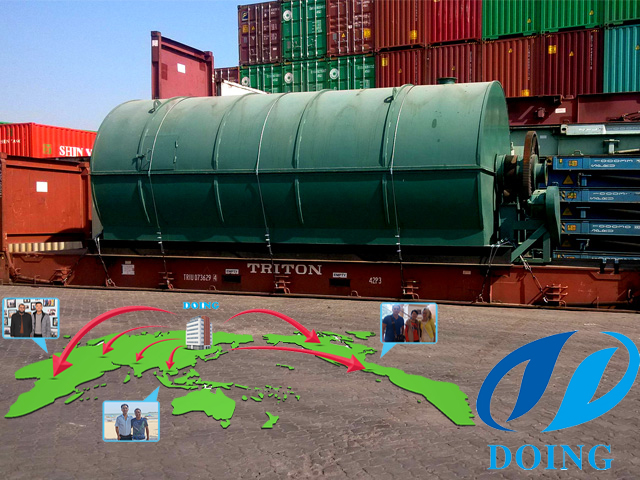 The main part of the pyrolysis plant is the condenser and reactor. The reactor is made by the steel quality Q245R, Condenser is used to cool the oil gas waste plastic generated. Inside the condenser there are cooling pipe. Then there are safety device, dedusting system, sealing device.
First put the raw material into the reactor, close the reactor with the fuel natural gas or coal. Temperature reached about 180 Celsius degrees, waste plastic will begin crack, and oil gas will come out.
The oil will go into the condenser. The oil gas will become liquid oil. Some oil gas which cannot be condensed will be recycled to the reactor to heat the reactor through a pipe which is contact with the reactor. The energy is only used in the start of the pyrolysis plant, once the plant is running the plant will used its own gas to heat the reactor. After pyrolysis the gas will come out the reactor, the temperature falls down we can discharge the carbon black.
The temperature deduced to 50 degree Celsius. Worker can open the reactor door.
Then we can start next batch.
During the process of the plastic to oil there will be no pollution to the environment no waste gas, waste water, solid waste and so on. The process is very safe with the vacuum system and well sealing reactor.
Technical parameter of pyrolysis plastic to fuel oil recycling plant
 
Items
Contents
1
Equipment type
DY-1-6
DY-1-8
DY-1-10
2
Raw material
waste plastic, waste tyre, waste rubber,
3
Structural form
Horizontal rotation
Horizontal rotation
Horizontal rotation
4
24-hour Capacity
6 ton
8 ton
10 ton
5
Oil yield
2.7-3.3ton
3.6 -4.4ton
4.5 -5.5ton
6
Operating pressure
Normal
Normal
Normal
7
Material of pyrolysis Reactor
Q245R
Q245R
Q245R
8
Thickness of pyrolysis Reactor
16mm
16mm
16mm
9
Rotate speed of pyrolysis Reactor
0.4turn/minute
0.4turn/minute
0.4turn/minute
10
Total power
19KW
19KW
19KW
11
Mode of cooling
Water cooling
Water cooling
Water cooling
12
Cooling area of condenser
100sqm
100sqm
100sqm
13
Kind of transmission
Internal gear drive
Internal gear drive
Internal gear drive
14
Noise dB(A)
≤85
≤85
≤85
15
Size of Reactor(D×L)
2200×6000
2200×6600
2600×6600
16
Working form
Intermittent operation
Intermittent operation
Intermittent operation
17
Delivery time
20days
20days
20days
18
Weight
27T
30T
35T