Waste tyre oil refinery plant product introduction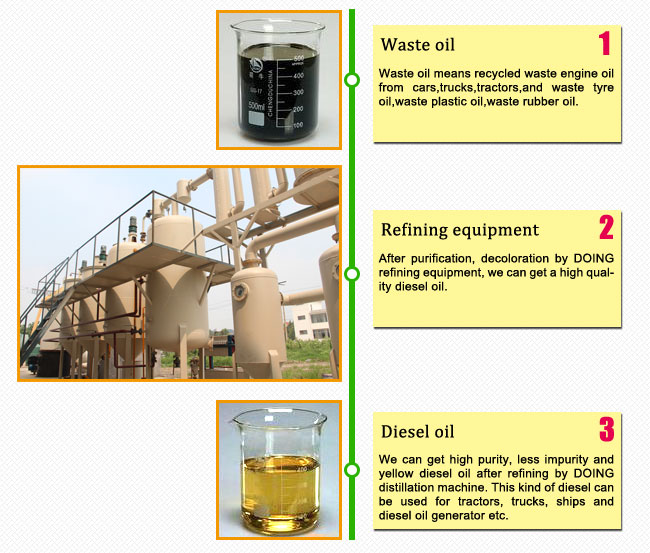 Waste tyre oil refinery plant is a process to convert the waste tyre oil. The technology is environmental friendly and energy saving. What is more the waste tyre oil refinery plant can convert the waste tyre oil,plastic oil and waste motor oil to diesel.
Environmental friendly: during the process of the waste oil refinery, we have waste disposal system to deal with waste gas, solid waste and so on. Then we will generate no waste to the environment, thus we will protect the environment. And the whole process of the waste oil distillation is sealed. So the waste oil refinery is environmental protection.
Energy saving:
The waste oil refinery plant is an energy plant itself. During the process, the well sealing of plant will improve the efficient of burning. To the world, the waste oil refinery plant will generate stand diesel thus will relieve the pressure of less and less limited energy in the world.
Safe:
We have vacuum system; the vacuum system is the unique devices of our tyre oil refinery plant which will ensure the whole plant operate under a negative pressure and escape the hazard of high pressure in the inner system. Then we have Oil-water separator It is the first seal device of the whole plant,which can prevent the gas reflux to the reactor and avoid blast we have pressure gauge and alarm bell of the plant. Then we have safety valve.
We can get stand diesel from the waste tyre oil refinery plant, the waste oil distillation can make contributions to the development of the economics and solve the deficiency of the limited energy.
Technical parameter of waste tyre oil refinery plant
Items
Contents
Model
DY-5t, DY-10t, DY-20t, DY-50t…
Raw material
tyre oil, engine oil, plastic oil,
Structure form
Vertical (easy cleaning and maintenance)
Heating method
Indirect heating to prolong the machine service life
Operating pressure
Constant pressure
Heating material
Coal, charcoal, fuel gas, fuel oil
Average out-put oil rate
95%
Material of reactor
4 reactor with different material
Thickness of reactor
18mm
Mode of cooling
Recycled water cooling
Power in total
20 Kw
Service life
average 7 years
Land area
180㎡