Tyre pyrolysis equipment for 8 product introduction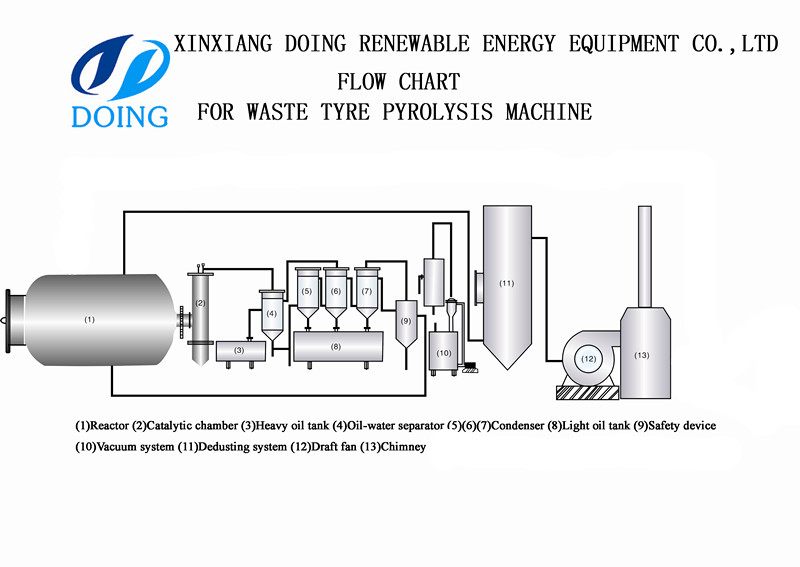 tires pyrolysis machine for 8T
Type:DY-1-8
Processing Capacity:8T tires/24h
Reactor Size:D2200mm*L6600mm
The whole pyrolysis system composite by 11 parts, those are reactor ,driving device ,vertical catalytic chamber,cooling tube,oil and water separator ,condenser ,heavy oil tank ,light oil tank , anti-back fire device vacuum system and dedusting device..
Reactor is one of the most important parts. The material and welding technology of reactor will have a direct impact on safety and durable life . In order to guarrantee the quality of reactor ,we use auto welder .The welding seam will get X-ray detection and heating treatment .
Condensers adopt water cooling way and the inner cooling tube are made of seamless steel pipe ,the diameter is 48mm.the heat exchaging area is about 13 square meter ,the total heat exchaging area is 40 square meter to get the best temprature for oil gas liquified.
vaccum system will guarrantee no oil gas leak ,safety ,and environment protection and energy saving and lower the temprature for pyrolysis and save fuel while continous feeding.
the main charater :
safety:
1. reactor with auto welding to quarrantee the quality of welding seam and avoid cracking
2. professional heating treatment and x-ray detection chamber for welding seam .
3. vacuum system to prevent oil gas be back to reactor causing accident.
4. with temprature meter ,pressure meter and safety valve.
environment friendly:
1.dedusting system to prevent gas and dust from coal burning
2.the exhaust gas will be recycled for heating reactor ,no gas pollution
3.well sealing on every junction parts to prevent gas leak,no smelly
longer life :
use Q245R special steel plate ,thickness 14mm. welding seam with auto welding and will get heating treatment and x-ray detection to extend the life of reactor to the most extend.
the life will be 8 years
energy saving:
1. well sealing for heating system ,no gas leak and saving fuel.
2. the exhaust gas will be recycled for reactor heating .

Technical parameter of tyre pyrolysis equipment for 8
 
Items
Contents
1
Equipment type
DY-1-6
DY-1-8
DY-1-10
2
Raw material
waste tyre, waste plastic, waste rubber,
3
Structural form
Horizontal rotation
Horizontal rotation
Horizontal rotation
4
24-hour Capacity
6 ton
8 ton
10 ton
5
Oil yield
2.7-3.3ton
3.6 -4.4ton
4.5 -5.5ton
6
Operating pressure
Normal
Normal
Normal
7
Material of pyrolysis Reactor
Q245R
Q245R
Q245R
8
Thickness of pyrolysis Reactor
16mm
16mm
16mm
9
Rotate speed of pyrolysis Reactor
0.4turn/minute
0.4turn/minute
0.4turn/minute
10
Total power
19KW
19KW
19KW
11
Mode of cooling
Water cooling
Water cooling
Water cooling
12
Cooling area of condenser
100sqm
100sqm
100sqm
13
Kind of transmission
Internal gear drive
Internal gear drive
Internal gear drive
14
Noise dB(A)
≤85
≤85
≤85
15
Size of Reactor(D×L)
2200×6000
2200×6600
2600×6600
16
Working form
Intermittent operation
Intermittent operation
Intermittent operation
17
Delivery time
20days
20days
20days
18
Weight
27T
30T
35T