Aruba waste tire recycling pyrolysis plant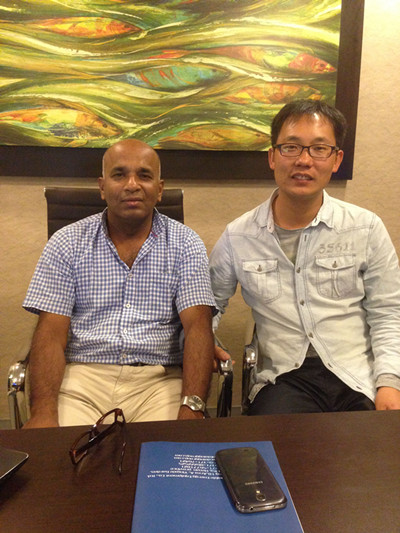 Aruba customer
The people on the left in the photo is our customer from Aruba. He has been looking for waste tire recycling machine since the year 2011. Then he discovered our company when he surfing the internet through Google. He contacted us for waste tire recycling pyrolysis plant in October 2013 and placed his order in April 2014 for one set latest capacity 10Ton waste tire pyrolysis plant.
Jamal is the third tire pyrolysis machine customer of us in the Caribbean area after our customers from Haiti and Jamaica, but he is the first one who placed the order without visiting China to check our factory and our tire pyrolysis machine. The photo is taken in one hotel of Mexico in February 2014 when our boss John flied to visit Mexico 10sets project as customer victor's invitation. In fact, Jamal was going to visit us in February, but finally he canceled his China visit and chose to visit our boss in Mexico.
His waste tire pyrolysis machine was nstalled in August 2014 and running well since then.
Inquiry more aruba waste tire recycling pyrolysis plant information
Leave a message in the below form to get more information about pyrolysis plant project, our engineer will contact you ASAP to analysis pyrolysis plant project cost for you.